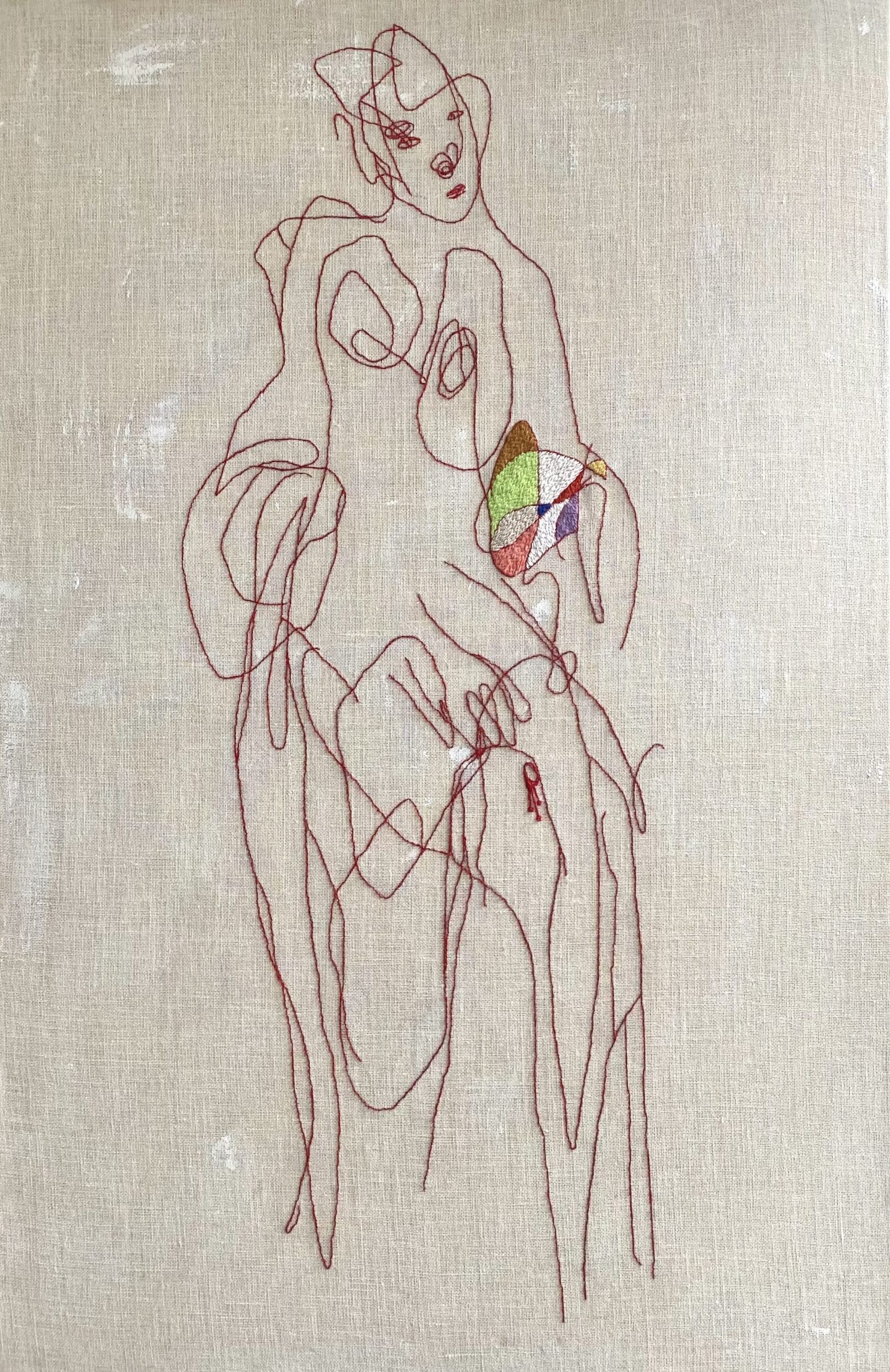 Photographs: Simone de Greef
Turbulence
The Icelandic Love Corporation, Katrín Elvarsdóttir,
Kristín Gunnlaugsdóttir, Sara Björnsdóttir
&
Elísabet Jökulsdóttir
June 5th – October 31st 2021
Aqua Maria 2018 – The Icelandic Love Corporation.
Aqua Maria features a soprano singing inside a space that resembles a steam bath but as the scene progresses, the space becomes more ambiguous. During her singing drops of water condense in her hair and face, becoming heavier until they stream down her face.
The video is based on the symbolic figure of Aqua Maria who rises from the ocean to serve as an inspiration for the current transformation women are experiencing in our time, influenced by the worldwide spirit of revolt and struggle against injustice and violence, as it is manifested in #metoo, Women's March, Black Lives Matter, Slut Walks and Free the Nipple campaigns that are organised through the world wide web.
The water in Aqua Maria responds to burning ecological issues and global warming. We only have one earth and one body, both consisting of 70% water. Aqua Maria is in all of us, the water in all of us and the revolution in all of us, her name Maria indicating rebellion in Hebrew and mar, sea, in Icelandic.
Aqua Maria relates to the strong undercurrents of our times: from nature to feminism, from art to ecology. It represents the human trust in intuition in light of new technologies and the stream of the digital ocean.
Jóní Jónsdóttir and Eirún Sigurðardóttir are the current members of the art collective The Icelandic Love Corporation (ILC) an art group established in 1996 by Jóní, Eirún and Sigrún Hrólfsdóttir. Sigrún was a member from 1996-2016 and Dóra Ísleifsdóttir was a member from 1996-2001.
Jóní and Eirún graduated from The Icelandic College of Arts and Crafts in 1996. Jóní studied at The Royal Danish Academy of Fine Arts 1997-1999 and graduated with MA.Ed. in Art Education from Iceland Academy of the Arts in 2011. Eirún studied at Berlin University of the Arts 1996-1998 and graduated in 2014 from the University of Iceland with a postgraduate Diploma in Applied Gender Studies.
The Icelandic Love Corporation has actively and successfully worked in the field of visual art, both at home and abroad, using nearly all possible media—including performance, video, photography, and installation—the ILC confronts the seriousness of the world with works that blend playfulness, humor and spectacle with refreshing genuineness and subtle social critique that often incorporates ideas of traditional femininity, with feministic approach.
ILC´s interdisciplinary art led them to collaborate with Björk for her Volta album in 2007 and a wide range of other collaborations e.g. GusGus, Ensamble Adapter and Ragnar Kjartansson.
Their works have been exhibited internationally, e.g. at ARoS Kunstmuseum Denmark, Moma Museum of Modern Art New York, The Schirn Kunsthalle, Frankfurt Germany, Kunsthalle Wien Vienna, Amos Anderson Art Museum Helsinki and Lilith Performance Studio Sweden.
ILC was shortlisted for Icelandic Pavilion for the Venice Biennale 2017 and nominated the Art group of Reykjavík by Reykjavík City's Department of Culture and Tourism in 2018.
—
Sewn drawings – Kristín Gunnlaugsdóttir
Sewn drawings is what I call the sewn works, which I base on sketches or quick drawings.
Generally they depict women and spontaneous lines, and sometimes scribbles created in the movement of drawing.
I draw them fast and without deliberation, and I wanted to enlarge them while retaining the power and lightness that resides in them. Sewing was the solution, and then the colour of the yarn is added – it becomes like painting with the wool.
The text works are reiterated sentences in personal handwriting. The sentences lie in everyday life, and relate to the imagery of the drawings; with constant repetition the meaning of the words is changed, growing weightier and more expansive.
Kristín Gunnlaugsdóttir was born in Akureyri in 1963. She studied 1984-87 at the Icelandic College of Arts and Crafts (forerunner of the Iceland University of the Arts), learned icon-painting in a convent in Rome, Italy, 1987-88, and studied at the Accademia di belle Arti, Florence, 1988-94. Kristín has worked exclusively on her art, held many solo exhibitions and taken part in group shows in Iceland and abroad. Works by Kristín are in Iceland's leading public art collections, as well as in corporate and private collections. Kristín has taught at the Iceland University of the Arts and the Reykjavík School of Visual Arts since 2016. Kristín has received various awards for her art, and in 2018 she was awarded the Icelandic Order of the Falcon for her contribution to visual art.
Kristín's works are made in range of media, while building on the classical painting tradition. She works with drawing, painting on paper and canvas, egg tempera on wood with gold leaf, and sewn works on canvas.
Kristín's conceptual approach is concerned with the existential questions faced by human beings, not least from the perspective of women and their status in the present time. In the early years of her career, Kristín's art had an aura of religious, iconic art, depicting for instance the relationship between humanity and nature, or mother and child. Around 2011 her art changed with the advent of large sewn tapestries, whose imagery was fierce and forthright vis-à-vis gender roles, the female body and repression.
While she has addressed taboos and the woman as a sexual being, a lyrical simplicity and humour are also to be found in Kristín's work, not least in recent years.
In her works she does not hesitate to explore new territory and to make changes within her imagery, often in order to juxtapose opposites.
In the sewn works displayed here, Kristín makes use of drawings and sketches, in which her ideas are permitted to evolve freely. The drawing is then developed in sewing, and enlarged in order to give its power and lightness free rein. By repeating everyday sentences, the meaning of the words is changed, growing weightier and more expansive.
—
Between the Lines / Milli línanna. Collage and text works 2011-20 – Sara Björnsdóttir
"In recent years I have been working on text-collage works. The works have the title Between the Lines, which is a line or phrase from one of the works and also alludes to the fact that, while this is my work, the words have been cut from someone else's context, that lies between the lines."
"The text is often like a little story, poem, or a reflection. It can be acerbic, lyrical, satirical, humorous or surreal. It often addresses art, and being an artist and a person. Sometimes I'm referring to people I have met along the way – friends and relatives.."
Sara Björnsdóttir was born in Reykjavík in 1962. She studied 1991-95 at the Icelandic College of Art and Crafts and 1996-97 at the Chelsea College of Art & Design in London for her MA in Fine Art.
Since her graduation Sara has had a high profile on the Icelandic art scene, and works diligently at her art. She has shown her work in numerous solo and group exhibitions, including Iceland's leading art venues. Works by her are in the collections of the National Gallery of Iceland and the Reykjavík Art Museum. In 2001 Sara received an award from the Dungal Memorial Fund, and in 2002 from the Guðmunda Andrésdóttir Support Fund. In 2010 she won an Alternative Routes prize for a video work presented at the 700IS Reindeerland Festival. From 2000 to 2015 she was a visiting teacher at the Reykjavík School of Visual Arts and the Iceland University of the Arts. Sara was a board member and treasurer of the Association of Reykjavík Sculptors 2010-11. She has also served on allocation committees for the Visual Arts Fund, the Icelandic Art Centre and the Muggur fund. She was one of the founders of Kling & Bang Gallery, one of Iceland's most dynamic galleries today.
When living in London 2015-19, Sara founded the Art Society – a project consisting of two international exhibitions of the work of 20 artists, both held in London. In addition to launching the project, Sara was the organiser and curator of both exhibitions, and one of the participating artists.
—
Equivocal – Katrín Elvarsdóttir
We are inside looking out. We are outside looking in. A woman in a red coat, a mobile home after midnight, yellow curtains – these are all clues in a fragmented narrative that raises questions rather than provides answers. In the photography series Equivocal we witness enigmatic events that we inadvertently have taken part in. Like uninvited guests in a scenario that refuses to reveal whether it is fact or fiction. The fragments combine in multiple ways and force upon us incomplete story lines of an ambiguous nature. Whether we like it or not.
Katrín Elvarsdóttir (b. 1964) studied fine arts and photography in the US. Her photographic works tell fragmented narratives of an ambiguous nature, often playing on the idea of socially collective memory-making. They often serve as a placeholder for enigmatic events that the viewer inadvertently becomes a part of, a story half-realized, half-imagined. Her work might best be described as suggestive, choosing to reside in the realm of an unscripted, imagined timelessness, often utilizing cinematic methods, as well as soft focus and chiaroscuro.
She continues to forego the photographic medium's conventional documentation usage, rather focusing on the research of the medium itself and its innate possibilities towards contemporary image-making and aesthetical expression.
Her work has been exhibited worldwide, in institutions such as The Reykjavík Art Museum and the National Gallery of Iceland, Forum Box in Helsinki, The Museum of Photography in Seoul, Martin Asbæk Gallery, Copenhagen and Frankfurter Kunstverein in Frankfurt. She has been awarded and nominated for numerous prestigious awards, such as the EIKON Award, The Deutsche Börse Photographic Prize and the Ridgefield Guild of Artists Award, as well as serving as a co-director of the Icelandic Photography Festival.
—
Elísabet Jökulsdóttir is an author born in Reykjavík on 16 April 1958. Her first book of poems came out in 1989. She has written many short stories, novels, and plays. In 2016 Elísabet ran for President of Iceland. Earlier this year she won the Icelandic Literary Prize.
Beloved Earth
Now I know
what was so
sad.
To be.
So I went
but I'm back.
To stay.
And then I hear a sound
and hear that it must be
my voice
which has been sleeping in my body.
It comes from my bones,
muscles, nerves and viscera,
a voice from primeval darkness,
a voice from potential light.
Think. A voice.
It comes from the cells,
from every single cell,
whispering,
potent,
saying
I am.
Will you keep silence.
Silence.
And break it.
Poetry by Elísabet Jökuldsdóttir / translated by Anna Yates